James A. Michener's COVENANT
The Secret History of a Best Seller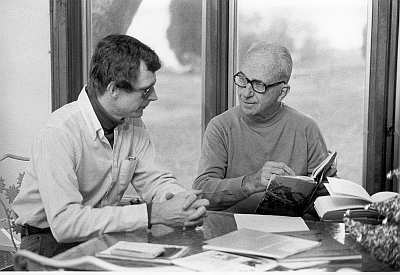 an online literary archive
The Assignment|The Plotting|The Research|The Manuscript

The Research
I
Looking for Mrs. Ples
"I'm working diligently on my reading, trying to get things organized in the abstract, for I have left my planning book at home, not wishing to risk either losing it or subjecting it to prying eyes," Jim Michener wrote from Honolulu two weeks after we ended our initial brainstorming sessions in May 1978.
Michener tackled dozens of books from my library with gusto. A few illuminating critiques of South African works read in the early stages of his research:
Wright's Burden of the Present is carefully written, makes a few good points worth remembering, and suffers grievously from not having included Afrikaans historian ... sort of like Hamlet without the prince. I found his final chapter quite pompous and self-evident: Historians should be good historians."

Parker and Pfukani's high school text (History of Southern Africa) is a splendid modern summary, almost good enough for college freshmen. Devoutly one wishes it were obligatory study for students across the Republic of South Africa. (I was amused to see that the authors, like all sensible men who know their material, I should judge, come to the same organizing conclusion that we did: follow the Dutch to Piet Retief; double back to pick up the Zulu; move forward with the Trek. I wish I were working those three chapters right now.) But even this book lacks the bite which would come in showing the Dutch actually acquiring their historic attitudes."

Prinsloo of Prinsloosdorp (by Douglas Blackburn, a rare work of fiction Michener read while researching the novel) is one of those haughty frolics that every nation should produce in every century. It reminds me of Tomas Roucault's (sic, Raucat) Honorable Picnic about Japan, and some Englishman's Haji Baba about Persia. But I was surprised at how little additional material Blackburn adds to what one already knows if he's done considerable background study. I like his sparing but effective use of Afrikaans words and judge that each writer ought to select a few crisp ones essential to his narrative and forego the rest. But I don't think they should be given in italic. In fact, I think our list should go even further and indicate with an asterisk those Afrikaans words which have already passed into our big English dictionaries as English words. What ones they are I don't know but would guess veld, laager, trek but not sjambok, Nachtmaal, or Rooinek.

Becker's Tribe to Township is much too episodic for my present needs: I want distillations of encyclopedia articles! But it is perceptive, and when one is finished one has a heavy feeling regarding the impossible burdens placed upon the men and women making the transition.
Jim spent a month in South Africa seven years earlier, producing his New York Times article on the Five Warring Tribes, but the vast project now in mind made it imperative that he return and trek to the settings we envisaged for the novel. Between May and November 1978, his busy schedule included trips from Maryland to Honolulu, New York to Poland and London, Philadelphia to China, plus weeks spent shooting a TV series on Sports in America. - The weeks between July 9 to August 19, 1978 were kept open for a research trip in Africa.
I'd left my post as editor-in-chief of Reader's Digest in Cape Town the year before and moved to the U.S. with my family. I could've gone back as Jim's guide but decided instead to assign a local editor and writer as his leg man. Philip Bateman had been on my staff at the Digest and was then working as a freelancer; he'd shown a flair for history in articles I commissioned him to write for the magazine. His assignment would be two-fold: to accompany Michener on his tour and later to act as my main contact in South Africa for fact-checking and ongoing research.
The draft itinerary I suggested to Bateman embodies the kind of foot-slogging that's key to mastering a subject as vast as South Africa - or Brazil, for that matter. (See Brazil: The Making of a Novel, The Journey.)
June 1, 1978 - Letter to Philip Bateman
Draft Itinerary for James A. Michener
Let's assume that you have been able to establish a "holding pattern" for your other obligations during the time of his visit. Here are some rough suggestions for an itinerary:
July 10 - 14 Johannesburg
July 15 - 22 Cape Town
July 23 - Aug 5 Land trip from Cape Town to "Eastern Frontier," following historical line of progress of white settlement and Xhosa movement; then through Eastern Cape up to the Orange Free State, tracing The Great Trek route and taking in Kimberley, Magersfontein and other Boer War highlights.
Aug 6 - Aug 12 Pretoria. Voortrekker Monument Museum etc. and up to the Northern Transvaal border. Depending on the security situation - it would have to be very 'secure' - hop to Zimbabwe Ruin would be valuable. Return to Johannesburg via the south-eastern Transvaal. Particular interest in the Hendrina, Lake Chrissie, Vaal source area.
August 12 - 19 Johannesburg
Your core period of involvement would be July 23 to August 12, when you're on the road with Jim Michener. It would be valuable if you were able to meet him in Johannesburg and see him set up for the first few days there. At that stage, the "research" accent should be on material on the land and its early evolutionary processes: Museum of Science and Man, Boshier, Tobias, Dart, Peter Becker etc. Also contact with De Beers and an expert an diamonds; he's looking for good, sound material on the creation, location and incidence of diamonds. Perhaps, too, if there is such a person up there, contact with Johannesburg or Pretoria expert on Zimbabwe and the Rozwi. And the Vaal ...I've strong feelings about its value as a sort of River of Man, a primeval source of the veld's earliest dwellers. And a side excursion to the Africana Museum? To sum up: At this opening stage, it's anthropology, geology, the 'living veld' of old that we're interested in.
To Cape Town: Remember, what we're seeking to capture on this 'safari' is depth, authenticity, mood, atmosphere, color. Above all, quality. (Both in material and people consulted.) We'd start with the Van Riebeeck era, the Castle. Contact with the experts on the Bush people. (That excellent display at the Museum). Groot Constantia: Obviously a visit with the curator or someone who really knows and loves the place and can show and tell about it in substance. Now we are following the expansion of the early settlement to the Drakenstein Valley. I'd like him to have the opportunity to overnight in a genuine Cape Dutch farm, to experience what it was like there. To Franschoek and the Huguenots; to Stellenbosch.
Then, toward the interior. On the trip to the frontier, special interest places to be seen from an historical perspective would be Swellendam, Somerset East, Cradock, Grahamstown, The Great Fish, Slagter's Nek. You want to really feel as if you're carrying kruithorings (powder horns,) rattling sabres, lumbering along with creaking wagon. It's important that he meet real people, see real places. Spend time in a small country town meeting with local Afrikaners, farmers, true descendents of the 1820 settlers. Stay in ordinary country hotels where he can sound out the locals. I often feel that on these 'discovery of South Africa' - or any place for that matter - trips, people don't get a chance to touch basics but are propelled from one know-it-all to the next in glassed-in splendor. That's not what Jim Michener wants! He'd far prefer to sit with coffee and rusks in a Swellendam voorkamer than some plastic palace.
Also on the Eastern Frontier, a visit to one of the English (LMS) mission stations. Through the Free State to Winburg and later the Boer War sites with special interest in Kimberly and Magersfontein. Also in the Transvaal, Waterval Bo-and-Onder where Kruger took leave of his forces to exile. And, again, a DRC mission station, preferably with school attached.
While the above reflects, with the exception of Zimbabwe and the Bush, a tracing of the white man's paths there will also be great interest in the coloured people and blacks with emphasis on the Xhosa of the Eastern Province border war area and in the Transvaal, close to Natal, the Zulu. But Jim Michener will be better able to detail to you his needs in that area.
At this stage, we'd welcome your thoughts on a draft itinerary, balanced to offer a broad perspective on history and, time allowing, a decent portioning between 'looking' and talking. It should set a reasonable, not exhaustive pace. Jim Michener would like to go about his work in a quiet, well-ordered manner. Just the two of you in many instances, ferreting out material and experiencing some of the places mentioned above. And undoubtedly other important stops you'd suggest. This is primarily a non-socializing visit. I know that he doesn't want one of those hour-by-hour VIP bashes, but would much prefer to set his own pace in line with your suggestions. I have spent some time with Jim Michener and can assure you a rare and rewarding experience with so fine and thoughtful a person.
Bateman followed these guidelines in setting up an itinerary and interviews over the five weeks. The busy schedule brought a private note from Jim's secretary, Nadia Orapchuck: "A word of caution ...Mr. Michener is 71 years old and had a heart attack about twelve years ago. He is a vigorous man, walks about three miles a day, plays tennis and we all have difficulty keeping up with him. But it is important that some time be set aside for a nap each afternoon, wherever possible, particularly in high altitude areas."
Michener and Bateman covered nine thousand kilometers and conducted 100 formal and informal interviews. Each day Philip gave Jim a folder with photocopied articles and background information on the day's activities, locations, interview candidates.
Bateman Research Folders

MICHENER DAY 4

Johhanesburg, Simmer and Jack, Historical Society

Photocopies

H. V. Morton, In Search of South Africa, 308-312

Lantern, Survey of Johannesburg Fort, Dec 1966

Lantern, Johannesburg Stock Exchange, Dec 1957

SESA, Gold Fields of Soiuth Africa, Johannesburg

Star, Camping Place of Stone Age Man, 10, 1972
The trip went off without a hitch, including a dash up to the ruins at Zimbabwe, driving hell for leather to catch up with an armed convoy on a road under siege in the guerilla war then raging in the former Rhodesia.
In his letters from South Africa, Jim remained upbeat about the course set for the novel.
Cape Town
19 July 1978
... I have encountered nothing so far to divert me from the general outline we speculated upon in Maryland and suppose, from this halfway point that I will not come upon any real disturbances. What I am finding is a wealth of supportive material on the topics germane up to this point, and suppose that I will continue to do so for the rest of the trip and for the rest of the outline. In other words, it stands pretty much as devised, and there are practically no blind spots upon which we fail to get the information we need. (You will understand, of course, that we have touched upon only some of the topics, but they do cover, many of the toughest problems, so there is reason to expect similar reinforcements all the way along.)
I do not yet have a clear picture of how the English settlers fit into the total picture, but I am sure that will fall into place once we get down to it. Right now, they appear so interesting in England that I may leave them there and tell the reader to fit them in as he or she sees fit!
At any rate, the work goes famously and by the time we finish I'll have correspondents in every corner of the republic. I can hardly wait to get back to Maryland to start serious work with Errol, and on my own.
Jim also offered asides on current Southern African events:
"Every time a Rhodesian village is exterminated, and especially when the victims are white, the South Africans do their best to be polite to visitors and refrain from making any obvious remarks. But these things are having a profound influence, and one would really like to know if Andy Young, who is not stupid, could be onto something when he makes his wild accusations. At any rate, it ain't dull over here, not when prisoners constantly jump out of windows to escape interrogation, and when clergymen flee to escape strange laws."
Graaff-Reinet(Cape Province)
27 July 1978
So far as the proposed outline goes, all is falling into place. I'm glad I didn't bring the actual outline with me, because it's better for me to think about people and places in larger frameworks, and allow the story to germinate on its own, but the main lines seem to hold fast. I am working hard on the English family and judge that I now have a workable solution. I am happier than ever that I am not focusing on gold, diamonds, Uitlanders or Jameson and feel quite sure that I'll adhere to that. But next week we head to Natal and I may have to do some serious rethinking of that problem.
My hope that we could travel incognito proved fatuous. Wherever we stop the press of the locality seeks us out, and the newspapers from afar track us down. I am asked three times a day to put the blast on Jimmy Carter and Andy Young but beg off on the grounds that to do otherwise would be improper. And twice a day I am asked to put the blast on Vorster (Prime Minister, John Vorster) and his cabinet, and again I beg off on the grounds that the Logan Act forbids this sort of thing.
Zimbabwe Ruins
8 August 1978
At the deluxe hotel serving Zimbabwe, they don't fool around. Next to the menu in each room they have a little tray containing four free tablets of Philips Milk of Magnesia...
All aspects of the book have now been investigated except the actual scene of the farm, and Australopithecus; we'll deal with the latter soon. I am ready to type out the first four chapters and the last three. But what happens in between remains uncertain. This obscurity is only because I haven't come to any kind of grips with the characters or the sequences. I think a few days concentrated with Errol on this, reviewing earlier decisions and fitting them in, ought to provide a fairly clear concept. At least I'm not worried...
We've had endless discussions with some very opinionated people, and I at least know where South Africa is. A great verkrampte (conservative) yesterday said that he thought it would be all right if the English stayed, providing they learned Afrikaans, closed their universities, sought no appointments to the armed services, tried to place no one in the cabinet, and kept their mouths shut. When I pointed out that they were citizens too, my advisor replied, 'Not Really.'
But the place is glorious to see; people live extremely well; blacks have it much better than in Zambia for the time being; and only God would dare predict the future. It's a subject for a powerful book, and I at least know the opening sentences for each of the chapters. The filling in? Now that's another matter. But we do have those complimentary Milk of Magnesia tablets.
Middelburg, Transvaal
11 August 1978
As we approach the end of our long and arduous trip I have been trying to think of whom in South Africa you might have found to do the job better than Philip Bateman has done it, and I conclude there could have been no one. He is a brilliant man, witty, well-informed, of good disposition and amazing capacity to keep things moving forward.
Our side trip to Rhodesia was most disturbing. About 500 miles in a strict military convoy with numerous conversations with people who feel that the end of the world is at hand. The killing goes on day after day; people live within wire fences; no termination is in sight; and after Independence on January 1 all on hand predict an even worse situation, with various black groups fighting for control of what is a glorious hunk of real estate. I've had by accident deep conversations with four groups who have fled Zambia, and they report that it is in total chaos... almost unmanageable. (There were five groups, come to think of it, and all reasonably sane.) Tony (Oursler) might consider an article on what happens when a country turns back the clock; I have reason to believe it's quite horrendous, and there seems a strong possibility that Rhodesia will go the same way...
I seem to have accomplished all I set out to do, plus scads of additional bits which will fit into the big picture. I come home with an immense amount of work to be done over the next two working years, but I think I see a clear way in which it can be done. The good feeling is that many persons who hear of the project say that they wish it were completed now. This augers well for the timeliness and the gravity; it would be most appropriate if it were in print right now, but I suspect it will be just as timely when and if it finally does appear.

©2007-2012 Errol Lincoln Uys All materials are from my personal archives, unless indicated otherwise. No items may be reproduced without permission. Web site illustrations added to material.