"Michener committed a scarlet literary crime and used his celebrated influence in publishing to get away with it."
— Stephen J. May, Michener - A Writer's Journey, University of Oklahoma Press, 2005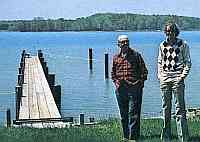 "Since Brazil is larger than the United States, it merits a full-length novel which richly dramatizes its remarkable history.
Errol Lincoln Uys, a distinguished writer, has written such a book. His characters and the flow of his narrative are compelling, and he has produced a novel that both captivates and instructs."
"About an hour ago Mari brought me the mail and I had the pleasure of reading Uys's notes about a proposed book on South Africa. I was impressed by his organizing ability, his thoroughness, and his keen insights into the problems of arranging a mass of material so as to be usable, especially in fictional form.
It became immediately apparent that he is prepared to start talks with me right away, because we have both done a great deal of thinking on this matter, along our separate lines, and we have come up with striking parallelisms, as I suppose any two reasonably intelligent persons would, faced with identical data."
---
"Uys showed such a mastery and predilection for plotting that again and again he came up with dazzling ideas that again and again attracted my attention. I am no good at plotting, hold it to be almost an excrescence, and pay far too little attention to it, so that Uys's bold suggestions were often appreciated.
It was he who suggested most of the coincidences, most of the confrontations, most of the wild occurrences and it was I who rejected a vast majority of them but I was deeply indebted to him for certain plot lines..."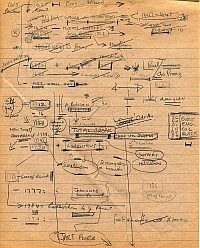 "Not one of characters, Tjaart Van Doorn, Naude, Bronk,Nel etc. even suggest picture of 'frontier Boer' - i.e. the wilder, independent, hard as nails individual. What we have is a picture that evokes American Centennial-type character plus the Pennsylvania Dutch.
Unsettling frontier element isn't there, the balance between Bible-living Van Doorns and wild renegade types, which if time allowed, I'd show in 50/50 proportion, is lacking.
We have a stylized Afrikaner-heroic interpretation. Good enough for the past and Nathan (Manfred Nathan, The Voortrekkers of South Africa, 1937) but inadequate for 1980.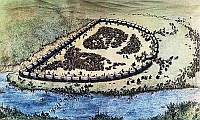 In addition, we have scant reference to the dominant issue then and now, i.e. LABOR. Sure, one might argue that the American reader only needs simplistic view. But it's wrong to offer it this simply. It just wasn't so."
---
Notes to each Section....
Each section contains cross-linked plotting notes, research papers, correspondence and manuscript drafts, all of which open up in the supporting pages

ASSIGNMENT NOTES

PLOTTING NOTES

RESEARCH NOTES

MANUSCRIPT NOTES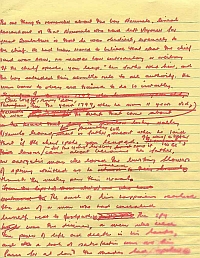 "Every excerpt, every page you have written for my book these past weeks shows that you are a writer with a superb use of the English language, a remarkable vocabulary and a very special turn of phrase.
You unquestionably have the talent to write almost anything you direct your attention to. You are a great researcher, as your copious notes prior to our work sessions together indicated. And you know how to put words together most skillfully as your work on the manuscript proved."
---
I was back at my desk at the Reader's Digest in February 1980, when out of the blue I got a broadside in the shape of what I've come to call "the Avenick letter." Jim had previously told me that Joseph Avenick, who assisted him with Sports in America, was going round saying that he'd ghost-written the book.
Michener had sought to dismiss Avenick by suggesting he was lost in a miasma of letter writing to the President, the Pope, Ted Kennedy et al. In his missive to me, Michener threatened me with the same woeful fate should I claim to have done more than vet his manuscript.
---
© 2007-2012 Errol Lincoln Uys